As 2019 comes to an end, we have been reflecting on our busy year. Catherine returned from maternity leave, we gained a new project administration assistant, Rebecca, built our new website, attended round-tables and conferences and we have continued to complete projects on your behalf.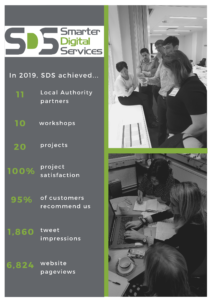 In 2019, SDS…
• Had 11 local authority partners
• Completed 35 projects
• Delivered 10 workshops
• Achieved 100% project satisfaction
• 95% of customers would recommend us
• Created 1,860 Tweet impressions
• Had 6,824 website pageviews
Looking forward to 2020…
SDS have an even bigger 2020 lined up! We are kicking off the new year with a team away day to brainstorm and focus our ideas to best deliver our services to you. If you have any suggestions, we would love to hear them!
We also have our Kent Customer Service Group meeting in January, this will be a great opportunity for our partners to share information and your big aims for the year so we can best help you.
From all of us at SDS, we hope you have a very Merry Christmas and a Happy New Year!