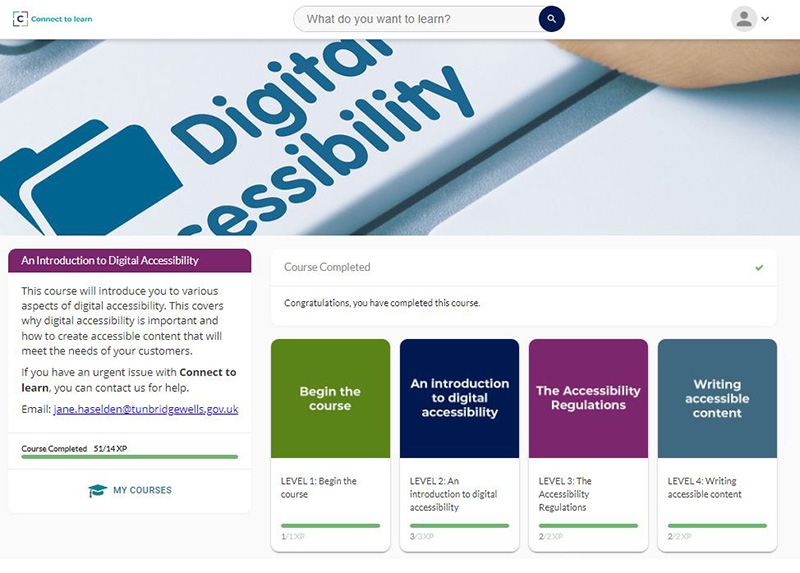 An introduction to digital accessibility
This course is aimed at all staff and includes an introduction to digital accessibility and why it is important, an overview of the rules and regulations, best practices for achieving digital accessibility and practical demonstrations on how to create accessible content that will meet the needs of your customers.
A Summer of Accessibility free webinars
Smarter Digital Services and Kent Connects jointly delivered a series of free webinars in the Summer of Accessibility series. Whether you are new to accessibility or looking for ways to further embed accessibility in your organisation's culture and working practices, there's something for everyone in this series of 45-minute webinars which have been recorded for you to access whenever you would like to.
If you are a partner, you have unlimited access to all of our e-learning courses.
If you are not a partner, we can provide a quote for you and colleagues to access the e-learning courses.
Creating good content for your customers
This course aims to help staff take a consistent approach to content design, ensuring that content is relevant, easy to find and easy to understand. This video-led course covers:
Why it's important to write good content
Why we need to improve
How people access and read websites
Using plain English
How to structure and layout content
Minimising friction
Using Adobe Acrobat Pro - introductory level
This course introduces some of the common issues with PDFs and how to fix these using Adobe Acrobat Pro. It includes demonstrations of how to use the accessibility tools, work our heading structures and logical reading order and how to fix issues such as titles, language, alt text, table headers, artifacts, empty tags, moving tags and saving.
Using Adobe Acrobat Pro - intermediate level
This course covers some of the trickier issues with PDFs and how to fix these using Adobe Acrobat Pro. It works through issues such as dealing with complex charts/diagrams and tables, converting layout tables into proper tags, understanding and tagging lists and dealing with footnotes.
Creating engaging and accessible content for social media
Creating engaging and accessible content for social media.
Cyber awareness and security
This session will give you an insight into how cyber criminals try to trick us into opening emails in order to obtain access to our organisation or to obtain personal information about yourself. We will show you lots of tips to protect yourself in your home life as well as work.