Are you looking to improve your organisations digital accessibility? Need some help in embedding a culture of accessibility? Concerned about meeting the digital accessibility regulations?
We are working with many local authorities and other organisations, supporting them to make their services more inclusive for everyone.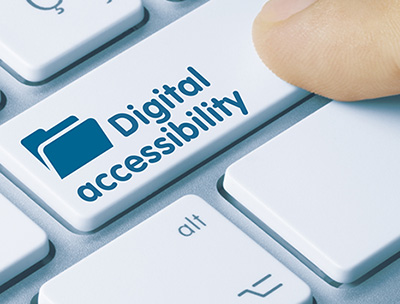 Website accessibility audits
Not sure how accessible your website/s are?
We can carry out a high-level website accessibility audit to identify issues that need to be addressed and help create a roadmap for improvements.
We will test your website using a range of accessibility checkers as well as manual checking and screen reader testing.
We then provide a clear report identifying global issues that need to be addressed across the whole site as well as any issues with specific templates or pages.  We will identify 'quick wins' and important accessibility issues that can be solved immediately as well as any more complex (developer level) accessibility issues.
Do you still have lots of PDFs on your website?
We can share a step-by-step process for tackling a backlog of PDFs and we offer an extra pair of hands to help make some of your more troublesome PDF documents accessible. Simply send us the PDF (and the source document if you have it), we will estimate how much time it will take us to make the document accessible. You can then decide if you would like us to remediate the document for you.
Introduction to digital accessibility e-Learning course
This course is aimed at all staff and includes an introduction to digital accessibility and why it is important, an overview of the rules and regulations, best practices for achieving digital accessibility and practical demonstrations on how to create accessible content that will meet the needs of your customers. Staff can do the course remotely, at a time that is convenient for them and work through it at their own pace. The course is fresh and engaging and many local authorities are already rolling the course out to staff across their organisations.
See our training and e-learning page for more details.
In these sessions we can provide bespoke advice and guidance for any staff/ services experiencing difficulties with producing online documents or creating accessible web content. For example:
A session for the finance team on making excel accessible
A session for content editors on creating accessible HTML
A session for communications team to help them create accessible publications
Are you confident your accessibility statements contain the information your customers need?
We provide guidance on how to write an accessibility statement or review existing statements and make any recommendations for improvement.
Creating accessible templates
Improving the accessibility of your documents at source is a great plan. 
We can develop a range of accessible templates for your organisation to use, or we can check the accessibility of your existing templates.
Delivering live training sessions
We offer a range of live training sessions to help engage staff in the topic of digital accessibility. 
A popular session is a 45 min introduction to digital accessibility. In this session we explain what digital accessibility is, we demonstrate why it is so important for customers and your organisation, we show the issues people have accessing online content and documents and we outline what everyone needs to be doing to create accessible content.
We also run live sessions on:  
Mastering accessible documents – This 90 min session covers practical tips on how to create accessible documents.
Using Adobe Acrobat Pro – introductory level – This 90 min session introduces some of the common issues with PDFs and how to fix these using Adobe Acrobat Pro.
Using Adobe Acrobat Pro – intermediate level – This 90 min session covers some of the trickier issues with PDFs and how to fix these using Adobe Acrobat Pro.
See our training and e-learning page for more details.