Usability Testing 'Report It' Online
Waste Forms
Tandridge District Council (TDC) asked SDS to user test their 'report it' function, specifically their new online waste reporting forms before going live. The primary aims for this project were to test the usability and design of the online forms and uncover any issues and assess to what extent this impacted the users' ability to complete the test.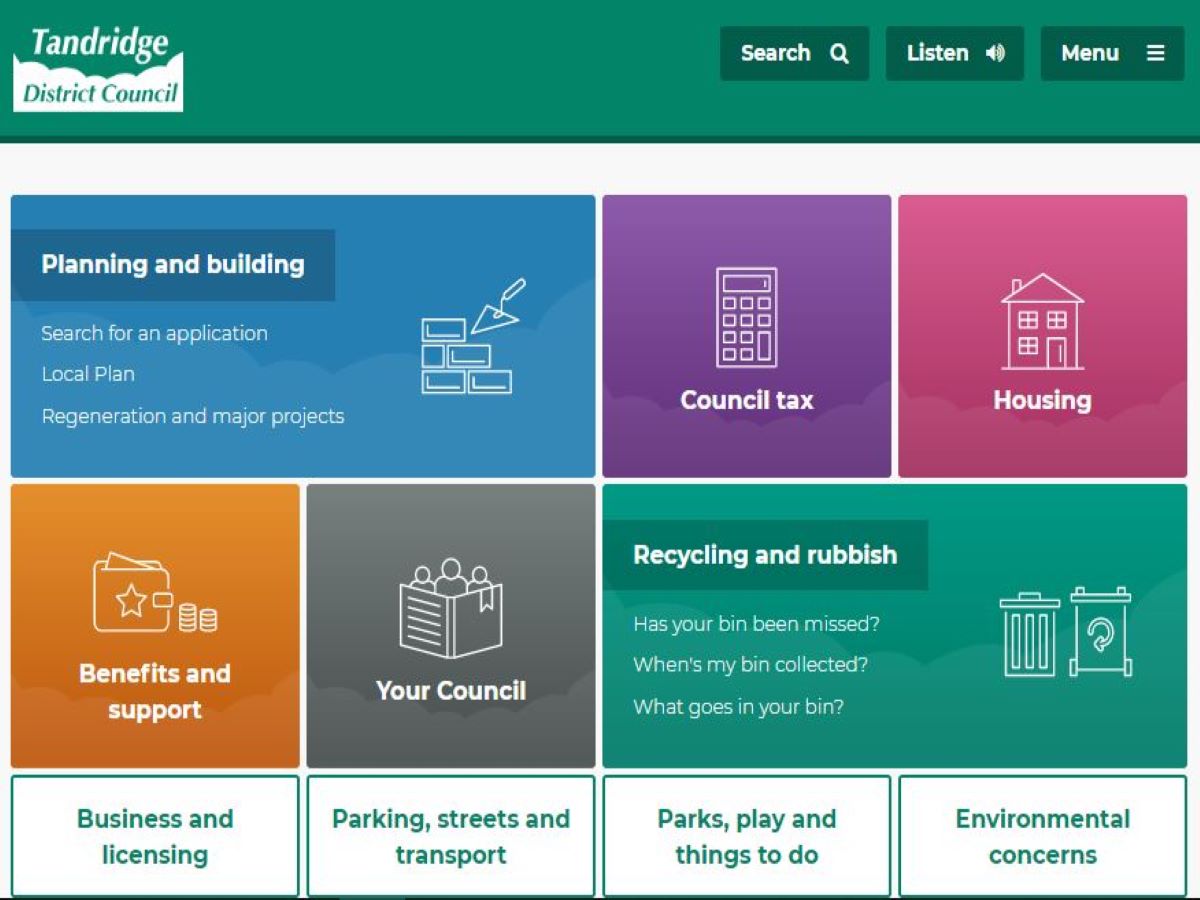 All users started at the TDC homepage and progressed to different waste forms relevant to the scenario. The scenarios covered popular waste reports such as missed bin collections, fly-tipping and replacement bins as well as more obscure reports such as dead animals and assisted collections. The representation of the user testers was not necessarily proportionate to the borough. When user testing, it is beneficial to recruit users from a broad demographic to maximise the feedback given.
The biggest hurdle the users faced was the newly implemented map to pinpoint the location of the issue. All the users struggled to use the map and were generally confused. The instructions for using the map (ctrl and scroll to zoom in on the map) flashed on the screen for a couple of seconds, which most of the users missed. In addition, most users did not see the plus and minus controls at the bottom of the map.
Other problems users encountered with the map was when they selected their location, the populated address was not what they were expecting as the map pulls the closest residential address to the location. This was particularly evident when users selected fly-tipping issue to a layby on a country lane. Not only did the users struggle to use the map but it could also hinder back office processes.
Other issues the users faced were descriptive text boxes to questions which obscured the form field which was often mandatory, and users skipped passed the question. This led to incomplete form entries and often the users had to go back to the errored field before successfully submitting the form.
Some of the users also struggled to find the form that was most appropriate to their scenario from the homepage. Instead of clicking on 'Report', most users took different paths to find the forms. When the 'Report' route was pointed out to them after the test, most users commented that they simply did not see the report it function as they feel it did not grab their attention. This was an important discovery as poor navigation to the forms prevent residents from reporting issues online.
User testing new online forms before going live is beneficial because it allows you to spot any transferred bad habits and ensure the customer experience has been improved. For more information on usability testing, please contact Dominic Taylor-Langley, SDS Team Manager, by email on dominic.taylor-langley@tunbridgewells.gov.uk.