Garden and Bulky Waste Online Forms User Testing
Tunbridge Wells Borough Council has recently changed waste contractors and implemented an opt-in garden waste service for the residents of the borough. Prior to the online forms going live, TWBC asked SDS to user test their online forms to identify any shortcomings in the functionality of the forms and to what extent this would impact customers ability to use them.
Seven users were recruited to participate in the user test, asked to complete pre-defined scenarios and entering dummy data on test versions of the forms. The users attempted to sign up and pay to the garden waste service, and order and pay for a bulky waste collection. Both mobile and desktop devices were used to closely replicate a users' natural journey.
Garden Waste:
The garden waste opt-in online forms were split into two, the first half being TWBC managed and the second half being managed by the payment platform, Civica, although this was not obvious to the user. The Tunbridge Wells Borough Council form pages were largely user-friendly, with small issues being identified. For example, many users interpreted the terms and conditions of the service differently and therefore the content needed re-working to be clearer and more concise.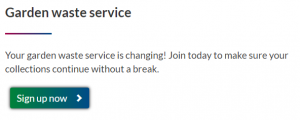 The issues identified on the Civica form pages were mostly technical, such as the cookies bar would not disappear despite the user selecting 'Accept', which was slightly frustrating for the user but did not stop them from completing the transaction. Other technical issues included that if a user selected 'Shopping Basket' the form threw the user out of the webpage to the beginning of the form, forcing the user to re-enter all their details.
However, most of the issues identified derived from the link between the two managed form pages. Often when the user pressed 'Next' the form struggled to take them from TWBC to the Civica form pages. The user had to refresh the page and potentially lose the field entries they had already inputted.
Bulky Waste:
The bulky waste collection process and payment was more straightforward for users to complete as the users had to select their items from a list and progress to the payment options. Throughout the online form, small recommendations were identified. For example, when asked, 'Do you receive a means tested benefit?', the help text was displayed after the user made their selection.
In addition, the mobile user experience was more straightforward to follow as there were fewer distracting buttons that prevented some users from selecting the 'Finish' button. On a desktop, the 'Finish' button is not as intuitive when compared to the mobile experience because the user is distracted by the options for a VAT receipt, an email receipt and printing the receipt, whereas on a mobile, the 'Finish' button is clearly presented.